UCSF Flow Cytometry Course
*** Please be aware there are certain limitations and new guidelines due to COVID-19 pandemic. Please visit our for the latest information regarding the guidelines and support during the COVID-19 pandemic . **
All New users of PFCC are required to go through onboarding to make sure all users are aware of the facility policies and instrument procedures.  Please visit the New Users page for the initial steps to get started.
For all self-users after attending the Onboarding Session at PFCC depending on your experience level you will sign up for some or all of the following classes. We highly recommend following through the UCSF Flow training program in the order: 
Level (1) Principles of Flow Cytometry Class:
For those new to flow cytometry, or would like reinforcement of flow cytometry fundamentals. The Parnassus Flow Cytometry Core (PFCC) is partnering with the CIL which provides a lecture and lab course designed to cover the basics and theory of flow cytometry. 
Level (2) FACSDiva Class:
to familiarize users with the workflow and operation of software in BD analyzers and sorters. The LSRII, Fortessa, X-20, and Symphony appear different, but the operation and workflow are performed in the same manner on all instrument types. If you analyze infrequently and feel that it is not worth learning how to use these instruments, an option is to request Assistance to have a Flow Core Staff member run your samples for you. Please
Level (3) Sorting Class:
fundamentals about cell sorting and to familiarize users with the workflow on a FACSAria / SH800 sorter. Although the machines have different names (Aria 2, 3u, Fusion), their setup, operation, and workflow are performed in the same manner on any Aria type instrument in the Core. Having experience with other flow cytometers, the workflow, and FACSDiva software will ease the learning curve on the Arias.  It is very beneficial if you have already previous experience in other flow cytometer analyzers.
Onboarding Session:
is considered as Basic Requirement for all Experienced Users who feel confortable operating the instrument independently and collect quality and reproducible data. All users will be required to submit an assessment Quiz to gauge profiency after the Onboarding Session.
*Please note Since Feb 1, 2020 all training registrations are done through iLab unless otherwise specified.
For access to additonal Educational material and tips and tricks about the technologies the PFCC provides access to please review our Help section (Educational Library and Protocols and Guidelines). There you can view online tutorial before your scheduled trainings, and other material that will help you understanding many flow cytometry basics. We highly recommend the tutorial which is excellent for beginners and even advanced users might learn a few things.
Basic Training Requirements 
We allow you to evaluate your skill level (Novice, Competent, Experienced), and depending on your experience level you will need to sign up for some or all the three classes mentioned below. Follow the diagram below to help you assess which classes to register for on iLab (on Schedule Equipment tab > Training category). It is recommended following through the UCSF Flow training program in the order mentioned. Please note, if we observe you need additional help, you will be required to take supplementary training.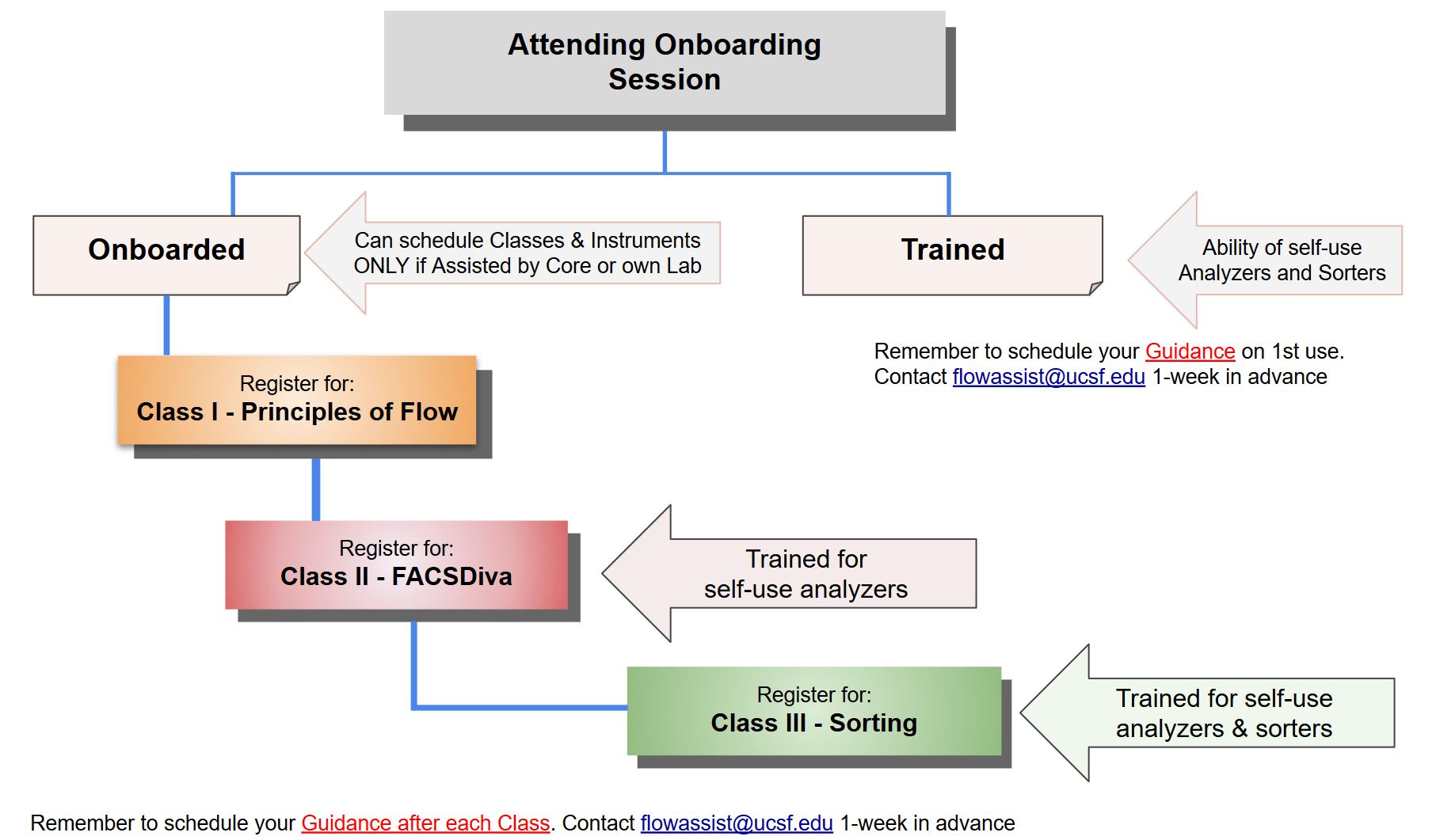 Click on the respective registration link to find out the available dates for each class. Each class is run once a month. Space is limited, so save a seat as soon as possible. If you wish to cancel contact the staff (FYI late cancellation fees may apply).
Remember Upon completion of each portion, you will then be able schedule Guidance session with a member of the Core, to help reinforce the training and practice with your samples. Same rate as appropriate instrument charge. No additional training charges. Click HERE to see class Rates.
Should you have any questions about the Training classes, please do not hesitate to contact [email protected].
You can also find useful Education information on our website HERE
---
FACSAria Advanced Training - SuperUser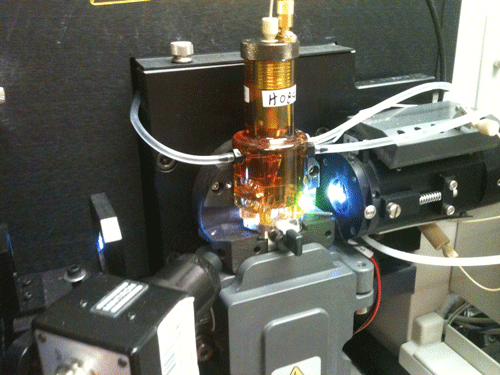 For users who would like to sort, or setup the instrument on their own, during non-normal work hours (Monday-Friday from 7pm-8am, weekends, and holidays), or become super users for their lab, Advanced Training is highly recommended.  In addition to reviewing what was covered under Basic Training, users will be trained on "Aria-Setup" which focuses on instrument startup.     
1)  You must have completed the standard Basic Training requirement. and it is highly recommended to have performed and gained experience during regular Business Hours.
2)  Notify Core staff by emailing [email protected] and we will add you to the Waiting List for the Aria Super User Training. This training may be spread out over a couple of weeks and will involve a minimum of 5 Aria setups where you are trained under the supervision of a Core staff member. You will not have to book any time for the trainings, but you will have to check the scheduler for opportunities to setup and inform Core staff of your availability. You should plan for about an hour a day and is best recommended to do in the morning on the first setup of the day. After passing this course, you will be able to setup the FACSAria, run a sort, and shutdown the instrument. You will become a super user for your lab, and will be able to setup the instrument on your own at any time. Cost = click HERE.